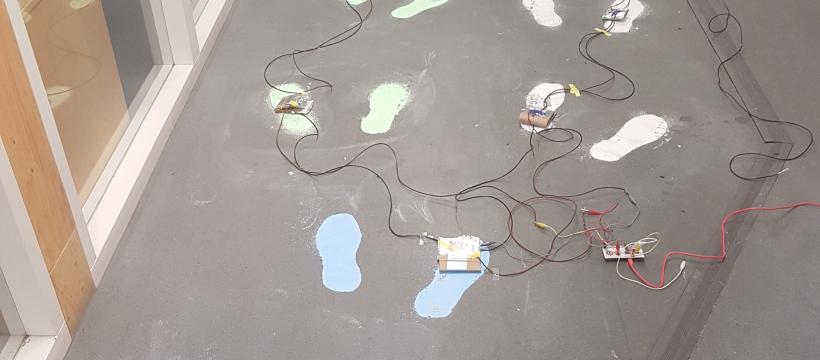 News
Serious Climate Geogames: a new method and tool to engage citizens with climate adaptation planning
What if we could bring together Games, Climate Change and Planning? Could this provide an opportunity for enhancing citizen engagement with climate mitigation and adaptation planning processes? These were the questions that Bruno de Andrade, Postdoctoral Research Fellow at the UCD Landscape Architecture, under the Ireland-Wales CCAT (Coastal Communities Adapting Together) project, aimed to investigate at the Urban Play Design workshop in reused car garage in Amsterdam, Netherlands during October.
Gabriele Ferri, a Researcher in Play & Civic Media at Amsterdam University of Applied Sciences, conducted the two-day practical workshop to provide a hands-on introduction to the process of inventing, prototyping and testing playful activities in public spaces.
The Digital Society School website states while smartphones can connect with people far-away, there is a risk of losing contact with people in our local environment. "More and more designers, architects, and public officials are looking at games as effective tools to re-engage people with their cities. Promoting play in public may be a new and effective form of community participation."
Bruno worked in a team rapidly designing a climate geogame for enhancing citizens' sense-making and awareness related to climate change issues in public spaces or exhibitions. The game used Makey Makey technology, an electronic invention tool based on a circuit board, alligator clips, and a USB cable, that uses closed loop electrical signals to send the computer a keyboard stroke.
The game setting was made by footsteps drawn on the ground, made from cardboard and aluminium foil connected with Makey Makey electronics. The game began with the first step prompted by the words "Hop on" that triggered the first audio question. The game prototype's questions were based on questions from "Climate Change Quiz" and "Climate Kids".
For each question answered correctly the player takes a further step, and for each incorrect answer the player goes backwards. By the end of the game the player should have learnt more about green footprints and carbon footprints with the aim encourage behaviour change.
While digital games tend to keep children and young people indoors, climate geogames aim to provide opportunities for citizens to interact with and explore their town and become aware of climate and environmental issues. Urban playfulness and adaptation planning can enhance a sense of belonging within the community, their place attachment, and everyday life interactions.
Hence, that is why the CCAT team at UCD Landscape Architecture is undertaking a research on climate geogames to explore the potential to both find a common ground and language with young people and empower them to effect change right now in co-creating future coastal cities.